Mittwoch, 21. Oktober 2015
Vorträge in Frankfurt/Oder (und Berlin): Internet und Migration
Im Rahmen der
Research Factory B/ORDERS IN MOTION
finden am Mittwoch, den 04. November 2015, von 17:00-19:00 Uhr im
Stephan-Saal (PG-257)
der Europa-Universität Viadrina in Frankfurt/Oder zwei Vorträge rund um ethnographische Betrachtungen des Internets statt: Ich spreche zu "The Indernet – From Internet Portal to Facebook" und Radhika Gajjala zu "Desis Hanging out in Digital Diasporas".
Hier die Abstracts zu den beiden Vorträgen:
The Indernet – From Internet Portal to Facebook
The internet portal Indernet was founded by Indians of the second generation in Germany for others like themselves in the year 2000. Soon it became a very active space of the second generation, the users adapted the technological infrastructure of the internet portal to their own needs and a sense of community developed. Due to technical problems the internet portal stagnated in the late 2000s and was relaunched as a blog and a Facebook page in 2011. A new Indernet developed, which has little resemblance to the earlier community space. The presentation asks in how far the new environments of the Facebook page and the blog have contributed to changing the character of the Indernet. In particular it will explore the question why in the case of the Indernet the new social media are less able to create a community than the previous internet portal.
Desis Hanging out in Digital Diasporas
This presentation works from a conceptualization of (South Asian) digital diasporas that connects work on digital materiality, affect and labor. It discusses how Indian-identified artifacts, practices, soundbytes, and images travel through digital worlds, leaving behind traces and time-stamps that get re-invigorated while being used transnationally and in various locations. I note how these social formations over generations of South Asian digital diasporas further contribute to the transnational sprawl of South Asians at work and play. Images and sound are routed through renewed identifications and re-memberings across generations and through physical geographies where South Asian identified culture becomes recognizable. Yet the practices of engagement with these media texts are transformed and hybridized differently in each of these locations "in increasingly convergent work and play environments where leisure platforms are usurped and appropriated" (Arora, 2014). Thus, these travelling media bytes actively contribute to processes of transnationalization, crowdsourcing and crowdfunding of labor and business through recoded subjectivities that negotiate multiple mediations along various continuums – online and offline, private and public, home and nation, with body and out of body.
Radhika Gajjala hält ihren Vortrag auch nochmal
in Berlin
am 5.11.15 um 16.00 Uhr im Institut für Europäische Ethnologie: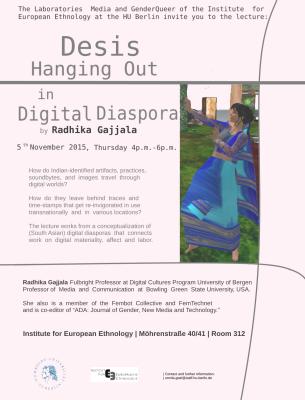 0 Kommentare in: veranstaltung ... comment ... link
Vortrag in Berlin: Verflochtene Machtverhältnise
Im ersten theoretischen
Vortrag der öffentlichen Ringvorlesung "Einführung in die Rassismusforschung"
spreche ich am Montag, den 26.10.15 um 16.00 Uhr zu verflochtenen Machtverhältnissen.
Soziale Positionierungen von Menschen sind komplex und kontextspezifisch. Sie werden nicht nur durch ein Machtverhältnis, wie z.B. Rassismus, geprägt, sondern durch ein Zusammenspiel unterschiedlicher Machtverhältnisse wie Rassismus, Heteronormativität, Klassismus oder Ableismus. Dabei wirken die Machtverhältnisse zusammen, bedingen sich gegenseitig, stärken sich oder produzieren ambivalente Positionierungen. Ein Begriff, um diese Verflechtungen zu beschreiben, ist Intersektionalität.
Der Vortrag stellt vor, wie Intersektionalität als Analyseperspektive für machtkritische Forschung genutzt werden kann.
Die Ringvorlesung "Einführung in die Rassismusforschung" findet im Hörsaal BIB 014 der Universitätsbibliothek der Technischen Universität Berlin, Fasanenstr. 88 statt.
0 Kommentare in: veranstaltung ... comment ... link